Our Staff
Our Staff
Kyle Cook -         Executive Director

kcook@jaycc.org  
(260)726-6477 Ext.23

Nathan Helm -      Director of Development
nhelm@jaycc.org 
(260)726-6477 Ext.27
Molly Sutton -      Administrative Assistant
molly@jaycc.org 
(260)726-6477
Monica Lykins -    Front Desk Closer
mlykins@jaycc.org 
(260)726-6477
Mitch Waters -     Director of Operations
mwaters@jaycc.org  
(260)726-6477
David Wade -       Fitness Director
dave@jaycc.org 
(260)726-6477
Jaime Wagner  -  Senior Outreach Coord.

jwagner@jaycc.org 
(260)726-6477
To see instructors Click Here.
Board
Keith Muhlenkamp

Joel Roberts – VP
Mark Tillman – Treasurer
Ami Huffman – Secretary
Lee Newman
Ken Schoen
Pat Bennett
John Boggs - President

Bev Arnold
Brian Ison
Kyle Cook - Executive Director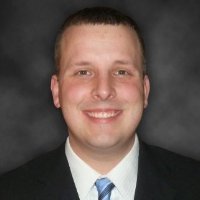 Kyle is the Executive Director of the Jay Community Center.  Prior to joining JCC in January of 2013, Kyle worked full time with a local family business, Cook's Nursery & Trim.  His educational background includes being a 2002 graduate of Jay County High School and receiving a BS from the nationally ranked Ball State Entrepreneurship Program in 2006.  Civically, Kyle was a past member of the board of directors in both the Portland and Jay County Chamber of Commerce and is currently active with the Portland Revolving Loan Committee, 20/20 Implementation Committee, and the Jay County Tourism Commission.
Mitch Waters - Director of Operations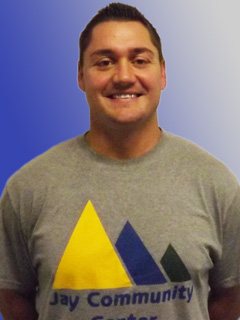 Nathan Helm - Director of Development
Nathan serves as the Director of Development at the Jay Community Center.  He has been in this position since August 2013.  Some of his duties include grant writing, social media, marketing, and the management of the annual campaign.
Nathan is a Redkey native and graduated from Jay County High School in 2007.  In 2011, he graduated from Ball State University with a degree in marketing.  Before starting at the Community Center in September of 2013, he worked in the sales field in Atlanta, GA.  When he's not working at the Community Center, he enjoys traveling, going to Cincinnati Reds games and concerts, and playing slowpitch softball.
David Wade - Fitness Director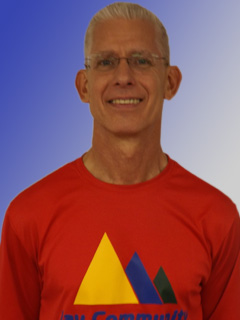 David is the Fitness Director at the Jay Community Center.  David has AFTA certifications in personal training and senior personal training and is also a SilverSneaker Instructor.  SilverSneaker is a nationwide program of exercise for seniors and the disabled.  Joining JCC in 2008, David has worked to establish the senior programming that has flourished with his leadership.  David's duties include managing the JCC Fitness Center, fitness staff, exercise classes, and coordinating fitness events like the Summer Slim Down and Sweat-a-Thons.  Aside from the fitness center responsibilities, David teaches various classes throughout the week including SilverSneakers & a higher intensity boot camp.
"Becoming a fitness instructor has been a wonderful blessing to both me and my clients.  I love being with the public and I thrive on helping people feel better about themselves.  This has been alone with pasturing, David is the pastor of the Family Worship Center, one of the most rewarding experiences of my life.  The greatest joy is knowing that you can help someone feel better about themselves and help change their life. I have always said that fitness is a journey, so enjoy it and rejoice in each change no matter how little or large.  Take each day and savor it, embrace it and see its potential."
I look forward to helping you in any way I can, through personal training sessions, fitness education or by seeing you working out in JCC's fitness center and or classes.
Molly Sutton - Administrative Assistant
Molly was born and raised in Jay County. She is a 2007 graduate of Jay County High School. Molly started at JCC in 2009, as the babysitter five hours a week during exercise classes. She enjoys working with the community. Molly loves going to the lake cottage in the summer and spending time with her family.
Monica Lykins - Front Desk Closer
Monica is a mother of four. She has a son in the Navy and a son in Air Force. Monica loves spending time with her family and kids. Monica started working at JCC in 2013.
Jaime Freeman Wagner - Senior Outreach Coordinator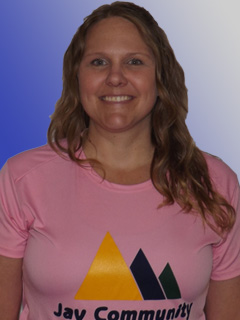 Jaime graduated from Ball State University in 1999 with a Bachelor's degree in Exercise Science and Wellness. She is the Senior Outreach Coordinator of the Jay Community Center. Jaime's work experience includes all phases of Cardiac Rehabilitation, Stress testing, and Personal Training. She is also a certified SilverSneaker instructor. Jaime has always enjoyed working in the health and fitness industries and especially with the senior population. She hopes to continue making improvements in the senior programming at JCC.
Jaime grew up in Portland, after college her jobs took her to Naples, Florida and then to Nashville, TN. She is excited to be back and working in her hometown. She is married to Jamie Wagner and has two young daughters Jayme and Joella. She looks forward to working with each and every one of you!
Remember:  Think positively, Exercise daily, Eat healthy, Build Faith, Worry less, Work hard, and BE HAPPPY!